About N2N
OUR MISSION
OUR MISSION:  To provide an oasis of support and encouragement to the homeless and near-homeless to help them achieve a better future.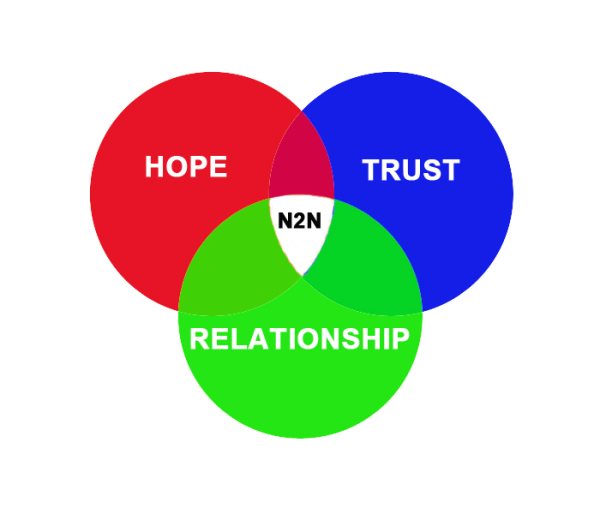 We believe the progression of change starts with rebuilding relationships, trust and a supportive environment. 
From such a foundation, a constant message of encouragement and care rebuilds the lost sense of self-worth and value.
From rebuilt self-worth comes hope and a re-discovered desire to overcome personal demons and obstacles.  
With hope and drive, sustainable self-sufficiency becomes very possible.
Neighbor2Neighbor's vision is to become the Kansas City area model of re-building lives through personal engagement and encouragement;  allowing us to develop just the right plan for a personal path to self-sufficiency based on thei neighbor that we have come to know.
We provide meals as a means to welcome and know our neighbors.
We provide radical hospitality as a means of building trust and comfort.

The N2N Board of Directors

John Sullivan - Chairperson
JoEllen Worth - Assistant Chairperson
Stephen Grimm - Treasurer
Vince Sheffer - Facilities
Lynda Walker - Volunteer Coordinator
Ruth Gerald - At Large
Rosie Beuthien - At Large
Warren Freeman - Executive Director
OUR HISTORY
In the early 1990's, persons in need came to the Westport United Methodist Church asking for money for food.  Rather than giving them money, tow of the women from the church made peanut butter sandwiches and put them in a sack along with snack food for persons who were hungry.  Later, other services were added.  A member of the church advisory board at the time observed that "we are offering help, neighbor to neighbor".  Hence, the name Neighbor2Neighbor we given to the program.
In 2004, the focus on providing "radical hospitality" became instilled in every activity and program.  It still acts as our foundation today.   
In May of 2007, Neighbor2Neighbor was incorporated as N2N, a 501(c)(3) corporation with contributions to be tax-deductible.  A formal board of directors was established.
PROSPERITY and GROWTH
Over the next 7 years, N2N grew and expanded services to include a very active and vibrant thrift store, food pantry and a part time social worker on staff to provide referrals and guidance to neighbors who were not aware or understanding of how to get help with the many medial and mental health services opportunities for the under-privileged.    At its height, N2N was serving over 100 individuals for each meal service of breakfast and lunch as well as a similar number accessing our thrist store.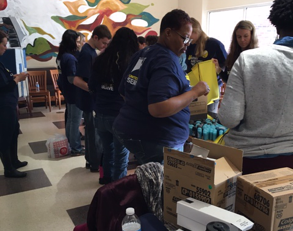 ​In September 2015, the Neighbor2Neighbor board of directors changed by over 80% in light of dwindling donations (N2N had stopped all fundraising efforts in early summer 2015 until a future path could be determined), challenging financial positioning and now a poor real estate investment..
With funds dwindling quickly, the new board worked diligently to find a new location and determine the right path to getting back on solid ground.
In December 2015, N2N was able to sell its new location - albeit at a loss from the original purchase price.  It also had to sell its thrift store and kitchen equipments.   Our Executive Director also resigned to pursue other opportunities.
In January 2016, however, N2N made arrangements with the Mary Kelly Center, in the Swope Corridor, to establish operations in its cafe.
SLOW RECOVERY to a NEW DIRECTION
In the many months since our move to Mary Kelly Center, Neighbor2Neighbor has seen the slow but steady return of many of its Westport neighbors as well as the discovery of many new families and individuals in the nearby area.   
We are currently serving an average of 30 persons for each meal.  We are still able to provide modest hygiene kits to those who request or need them.  And we are still providing the very same radical hospitality that we've always been known for.   Our neighbors seek us out.  We remember them and welcome them each day.
Our current Executive Director and Social Worker, Warren Freeman, is once again engaging with our neighbors in an effort to connect them to services and other opportunities to help them get back on their feet.
During this period, the slower return to growth has allowed N2N to spend time setting a new vision for an exciting future.   We are currently in the final stages of setting that direction.   
In the new vision, N2N will continue to be known for our radical hospitality.  We will continue to treat all who come through our doors as neighbors.  We will continue to provide meals to them.   However, we will be more ambitious in setting up new programs designed to get our neighbors on the path to self-sufficiency.  
While providing daily needs is critical for survival, true hope lies in the ability to return to independence, confidence and a healthy sense of self-worth and value.
That, then, has become our mission.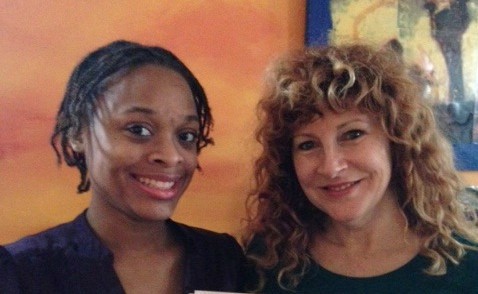 By 2014, N2N had outgrown the modest kitchen service space provided at the Westport United Methodist Church (now known as Revolution church).  Additional services, such as job training and mentorship programs were being contemplated.
To alleviate the location issue, N2N identified a new building just a block aware from the Revolution church with room to expand in multiple directions.   Fund raising efforts successfully raised the necessary capital and the future seemed very bright.
DIFFICULT TIMES
However, in late 2014, difficulties arose with the new location as it was discovered the zoning was not supportive of the meal services that N2N was providing.  Additionally, the surrounding businesses became vocal in not backing a re-zoning motion put forth by N2N.

​It soon became apparent that N2N  would not be allowed to relocate to the new building it had just purchased.  In the meantime, the Revolution Church had still moved forward with plans to reclaim its basement kitchen for its congregation.


N2N was suddenly with a new building but was at risk of losing a place of operations by the end of 2015..


​